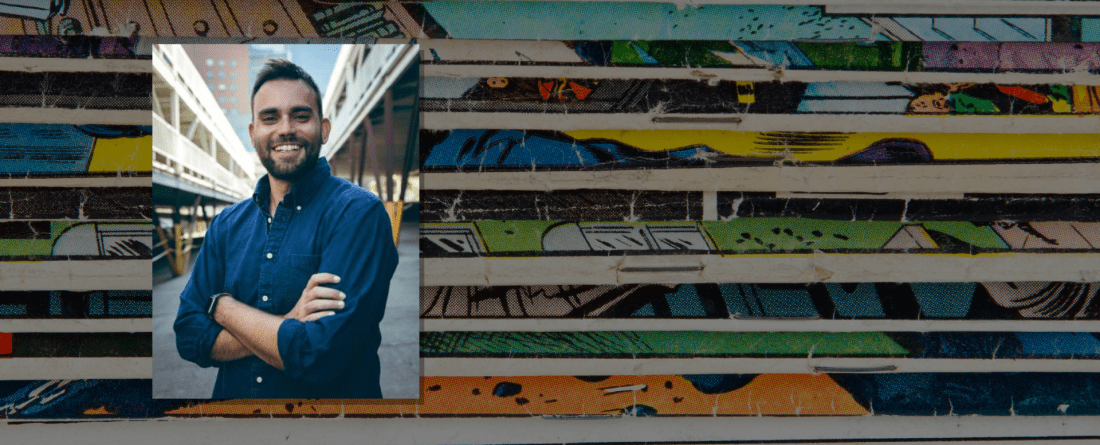 "People have been left out and left behind. Find ways to tell that story. All you need is a piece of paper and a pencil," said Andrew Aydin, author.
Aydin spoke with the School of Public Policy community at the fall Brody Forum, discussing how different – and sometimes unorthodox – means of communication can help emphasize messages while increasing their accessibility to a broader audience. 
Aydin is best known for his graphic memoir series, March, chronicling the fight for civil rights from the perspective of former Rep. John Lewis. Aydin produced these memoirs while serving in Lewis's congressional staff in senior roles. Utilizing comics as a medium, he has reached a diverse audience, vital in the ongoing debate of voting rights and race in policymaking.
Aydin recalled as an Atlanta native "[growing] up reading everything, particularly comic books." After college, he took a job with Rep. John Lewis in Washington, D.C, and while serving as press secretary on the Congressman's re-election campaign, Aydin suggested that Congressman Lewis write a comic book to tell the story of his involvement in the Civil Rights Movement. To both Aydin and Lewis, communications and politics were about storytelling, and a good legislator is one that goes from their district to Washington and tells the story of the people they represent. 
"With comics, you can dramatize images and events, and with social media, you can reach more people than ever before," said Aydin. "We need to use these tools and mediums that work for this generation."
Aydin continued to offer insight into Lewis being both a very "playful" and impactful leader. He noted that it was the Congressman's usage of Twitter and social media in 2008 that was the starting point for things like March and the catchphrase "Good Trouble." Aydin wanted to find a way to remind people of all the things Lewis had done, from the sit-ins to getting arrested to Selma. 
"A tweet and a comic book are the same. Words and pictures working together as a sequential narrative, it's the language of this generation," said Aydin. 
Aydin ended the conversation calling on the students to flex their creativity and chase ideas they are passionate about, even if others may not support them at first. He recalls getting laughed at when pitching that March should be in schools across the country, teaching young people about nonviolent organization. Three months later Aydin watched as the New York City public school system adopted the series into its curriculum.
"You see the world differently. Don't be afraid to have people tell you you're wrong," emphasized Aydin. "We need you to make brilliant new things, come up with incredible new ideas. That's what built this country and that's what will save this country."