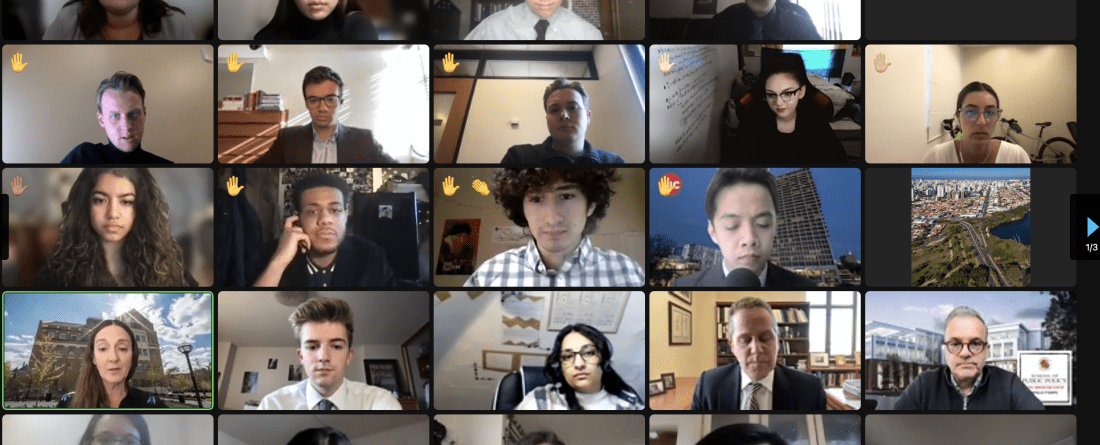 What's it like to walk a mile in a U.S. Senator's shoes? Students from across the BIG 10 learned it was perhaps more difficult than it seemed — and it didn't seem easy — during the Vote at Home Act simulation, a virtual BIG10 policy simulation held in late January.
The Vote at Home Act simulation is part of the Democracy in the 21st Century series, a conference-wide collaboration to develop educational programming that promotes active civic education and engagement. About 60 students from across the BIG10 conference divided into four cohorts and took on roles of U.S. Senators serving on the Senate Rules and Administration Committee. Five University of Maryland students, including a mix of graduate and undergraduate students from SPP and the Department of Government, were selected to participate in the event. 
The session kicked off with a recorded address to students from Minnesota Senator Amy Klobuchar, the chair of the actual Senate Rules and Administration committee, who discussed her voting rights legislation and set the tone by encouraging students to be principled but open to compromise and bipartisanship. The students caucused as individuals representing a particular Senator, as members of their respective parties, and then deliberated as committee members and attempted to pass the Vote at Home Act of 2021 during the five hour simulation. Of the four groups, three would approve the bill after amendments were debated and added.
Mario Sto. Domingo '20 MPP '22 was one of four students who played Sen. Patrick Leahy, senior Democratic senator and president pro tempore of the Senate. Sto. Domingo enjoyed how the exercise helped him learn more about the debate around voting rights, even if his group struggled to get the bill passed.
"Our bill ended up being very watered down from the initial stage. Everyone dug into their roles, which made it hard to compromise and find common ground," said Sto. Domingo. "We really got into the debates, the questions of constitutional law and the intricacies of election regulation, which is all pertinent to my internship." 
The Democracy in the 21st Century collaboration is an ongoing program spearheaded by the School of Public Policy''s Civic Innovation Center (CiVIC) and the University of Michigan's Ford School. The objective of the policy simulation was to give students an opportunity to connect across the BIG10, foster a richer understanding of different perspectives and the legislative process, and develop awareness of the complexity of lawmaking and the people behind it. 
"I worked in the Senate in the 1990's when there was more room and time for Senators to develop bonds of trust, understanding, and empathy. That is harder today for a lot of reasons, including information technology," said Paul Brown, director of CiVIC. "This simulation used technology to foster richer understanding and empathy on the part of a geographically-diverse group of students of government, the qualities we want in our future leaders." 
Learn more about the BIG 10 Collaboration: Democracy in the 21st Century