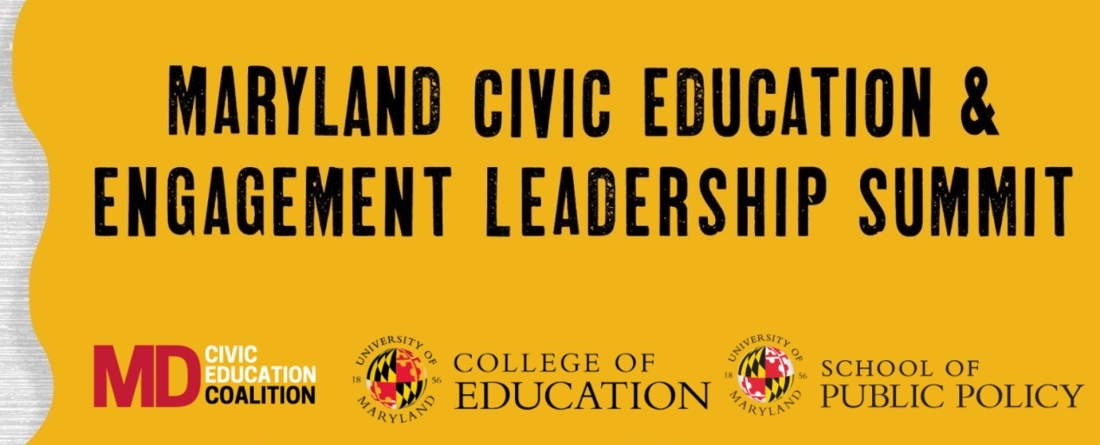 The Civic Innovation Center (CivIC) at the School of Public Policy (SPP) has released a report on the experiences of Maryland teachers, administrators and community members with civic education and service-learning. The report, drafted by CivIC along with the UMD College of Education (COE) and other members of the Maryland Civic Education Coalition (MDCEC), compiles key takeaways from the first Maryland Civic Education and Engagement Leadership Summit, held virtually on February 17, 2021. 
The summit brought together over 320 experts, community members, students and practitioners with "front line" expertise to discuss how Maryland leads the nation in civic education and to make recommendations about how to make civic learning and service-learning more meaningful and equitable. 
"We are the only state in the country that requires a minimum number of service-learning hours to graduate from high school," said Paul Brown, director of CivIC. "There is great potential in this requirement, but more we can do, especially in terms of equity, to connect that with what students learn, and do, in the classroom."
Featured speakers, civics education experts and leaders included John B. King, Jr, former U.S. Secretary of Education, president and CEO, The Education Trust and professor of practice, COE; Jennifer King Rice, dean and professor, COE; Robert C. Orr, dean, SPP; Sarah McGrew, assistant professor, COE; Eric Luedtke, Maryland House of Delegates Majority Leader and professor, SPP; and other faculty and staff from the Governor's Office on Service and Volunteerism and the Maryland State Department of Education.
"Maryland leads the nation as one of the only states that provides a full year of instruction in government and civics and our state and district curriculum social studies specialists provide excellent guidance and support for high-quality teaching," said Lena Morreale Scott, the Director of the Civic Education and Engagement Initiative at COE. "The collective message from Summit participants is that we can and should build from the position of strength to further support teaching civic content, skills, and civic agency for Maryland students at every grade level."
The summit agenda focused on six proven quality civic education practices. The discussion between participants produced four key findings:
1. According to attendees, the greatest challenges to civic education and service-learning are current social issues like economic inequity, racial inequity, and political polarization. 
"I think that some things relating to politics can be upsetting to students in public schools," said a student participant. "If a student has different beliefs than another classmate, they could get into an argument. Also, some students are very sheltered, and their parents wouldn't want them focusing on civic education and engagement during school."
2. Teachers need support when helping students learn to understand and discuss politically controversial issues. This could include increased training, continuing education and professional development, and increased resources on civic education. 
"Overall, I think we have a supportive environment for open dialogue and civic education in Maryland," a Maryland teacher stated. "As a teacher in Montgomery County for the past 6 years, I have never felt in fear of losing my job or repercussions for creating lessons that include dialogue on current events and discussions of '-isms' in society."
3. Summit attendees are hopeful about increased awareness of the importance of civic education, social problems, and reform efforts. 
"Civic education has always been central to the preservation of democracy," said John King during the opening discussion. "Civic education has to be about readiness to participate in civic discourse in our society."
4. Civic education is a group effort that requires greater collaboration between all teachers and subjects. Students who hear about civics in a STEM course are more likely to absorb the material and be more engaged in other classes, and partnerships with civic organizations can connect the curriculum with students' lives outside the classroom.
"Working hard with community partners, that's the thing that connects project based civic learning or experiential civic learning to the community," a roundtable moderator explained.
SPP and COE are founding partners of MDCEC, a cross-partisan association of civic leaders, educators, and advocates striving to ensure equitable access to meaningful, hands-on, comprehensive civic education that prepares all students in the state for lifelong civic engagement.
Learn more about the Civic Innovation Center