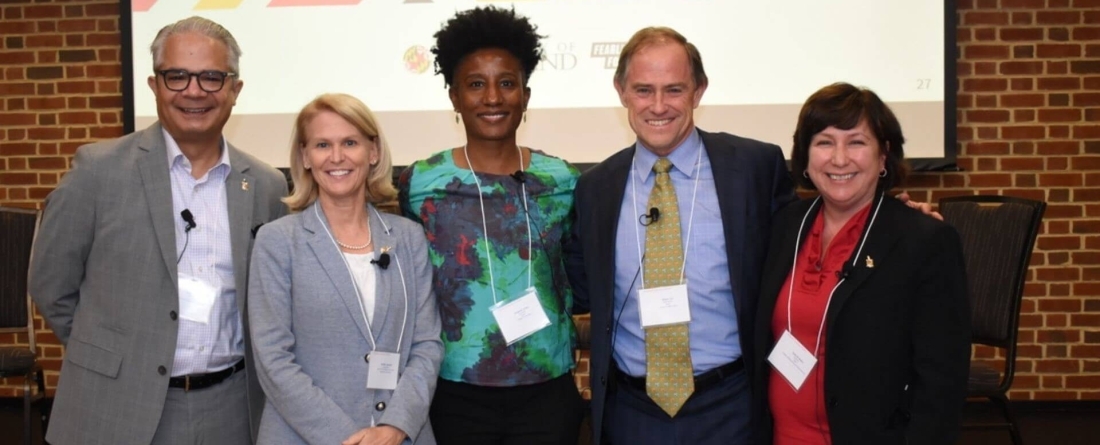 On Monday, the Maryland Democracy Initiative (MDI), which is supported by a Grand Challenges Impact Award, hosted a Constitution Day Dialogue event with a diverse panel of experts who gathered to discuss the pivotal role of education in shaping the future of democracy. The event, held at STAMP Student Union, addressed the implications of recent Supreme Court decisions involving race-based admissions in higher education and the broader challenges facing democracy today. 
Among the speakers and panelists were Lena Morreale Scott, director of the Civic Education & Engagement Initiative in the College of Education and principal investigator for the MDI; Janelle Wong, director of Asian American Studies and professor of American Studies and Government and Politics in the College of Behavioral and Social Sciences; Kimberly Griffin, dean and professor of the College of Education; Rafael Lorente, dean and professor of the practice in the Philip Merrill College of Journalism; Robert C. Orr, dean of the School of Public Policy; and Susan Rivera, dean of the College of Behavioral and Social Sciences. The panel discussion was moderated by Senior Vice President and Provost of the University of Maryland, Jennifer King Rice.
Scott kicked off the event by highlighting MDI's mission to empower individuals for a lifetime of civic participation, emphasizing that "we the people" are the heart of addressing democracy's grand challenges. "We recognize that there is incredible power in this room, power that is from scholarship, power that is from lived experience, power that is part of what makes us all Terps," said Scott.
Delving into the recent Supreme Court decisions regarding race in college admissions, Professor Wong clarified that while the use of race as a separate factor has been restricted, considering race outside of admissions and collecting race-related data remain permissible. She also noted the importance of collecting high-quality data on race. Wong shared, "Race was not the ONLY factor nor was it ever the primary factor in holistic race-conscious admissions." 
Provost Rice linked the University's strategic plan, "Fearlessly Forward," to the ongoing conversation. "Education is at the center of preserving our democracy. What we do here is so absolutely essential," asserted Rice. "Our strategic plan recognizes the importance of inclusive excellence – of preparing people for the diverse democracy in which they live and recognizing once again that diversity is intertwined with excellence." 
Regarding college admissions, Dean Griffin emphasized, "Race-conscious admissions was always a bandaid for structural inequality in K-12 education. … We have to do everything we can to ensure that ALL students have access to high quality education." Griffin also expressed the need for teachers to be intentional in ensuring cultural inclusivity in their teaching, acknowledging that every teacher must see the inherent potential in every child. 
Dean Lorente pointed to strategies including outreach, fostering an inclusive culture, broadening the curriculum and allocating resources such as scholarships, in reference to attracting a diverse cohort of students. He also reminded the audience of the urgent need to ensure that current students at the University of Maryland feel comfortable.
Speaking passionately about the role of public institutions in providing opportunities for all and contributing to the public good, Dean Orr underscored the importance of universities in addressing societal challenges. "Public institutions are supposed to provide opportunity for ALL … It's up to us to make sure that the first 'for all' remains seen out there by prospective students, faculty and staff." Orr continued, "The second 'for all' that a public university is all about is providing public goods for all … education, public safety, environmental stewardship, dealing with global problems like climate change."
Dean Rivera emphasized the university's role in addressing issues like economic disparity and systemic racism. She underscored the need to pivot continuously toward improvement and collect more robust data to drive equity initiatives forward. "We are here to create the next generation of leaders who are going to take our country in the direction that we hope it will go," said Rivera.
The panel discussed the broader implications of the Supreme Court rulings, with Orr emphasizing the need to cultivate leadership for the next generation of democracy, Rivera urging historical awareness and Lorente highlighting the importance of youth engagement in the political process. Rice closed out the panel discussion with a call to action. "This is our collective work. …We are crossing the starting line with wind in our sails and we're going to have to tend to that and make sure that we walk the talk."
The Constitution Day Dialogue event served as a platform for thought-provoking discussions on democracy, education and the future, highlighting the University's commitment to fostering diversity, inclusivity and civic engagement as it relentlessly pursues a more just and equitable society. On June 29, following the recent Supreme Court decision, President Pines and Provost Rice, along with the deans of all Colleges and Schools, authored a resolute email to the UMD community stating, "We will remain a national leader by encouraging and supporting students of all backgrounds as they apply, enroll and graduate from the University of Maryland. The educational value of campus diversity is one we will not sacrifice."
Publications Carousel
Professor Wong presents at the Constitution Day Dialogue event.
Panelists take questions from Provost Rice to generate discussion.
President Pines attends the Constitution Day event.
Provost Rice engages with panelists Dean Lorente and Dean Griffin during the event.
Dean Orr speaks during panel discussion.
Audience members look through discussion questions.
Co-event planner and PI Paul Brown, who also serves as associate clinical professor in the School of Public Policy and director of the Civic Innovation Center, addresses the audience. 
Speakers and panelists gather with Provost Rice.