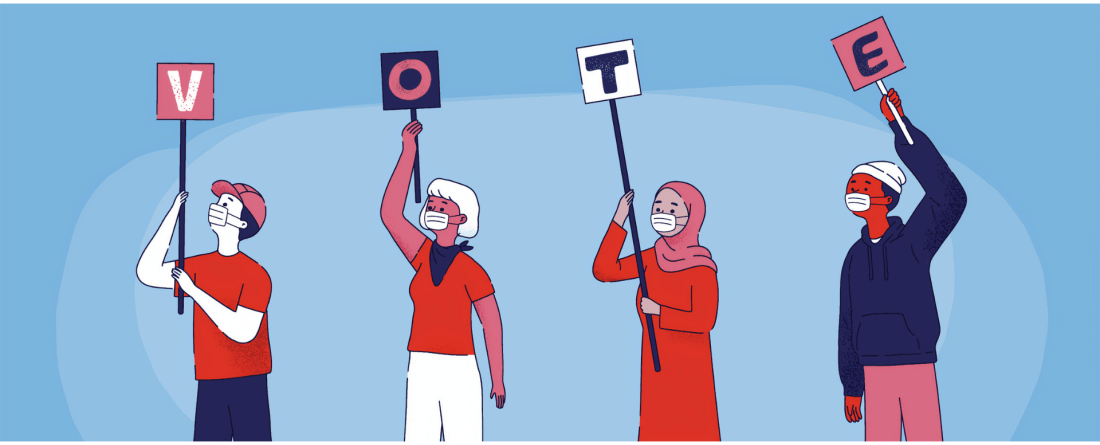 This year held an election like no other. To help demystify the process and share some insights, the School of Public Policy hosted a series of virtual panels around election day that featured civic leaders and experts. 
To kick it off, SPP welcomed election and public health experts for Participating in a Pandemic: Ensuring Safe Voting, a panel on principles for conducting safe elections in the context of the COVID-19 virus. David Mussington, internationally known expert on critical infrastructure cybersecurity hosted the panel, the first in a series of collaborations with BIG10 universities. The panelists' suggested checklist for safe in-person voting included poll worker recruitment and exclusions, pre-testing of volunteers, provision of personal protective equipment (PPE), rigorous sanitation protocols and transparency of information.
Trusting the Results: Delivering a Fair Election featured various cybersecurity experts discussing the technical, process and participation challenges of the 2020 election to ensure the election could occur without challenges to the results' legitimacy. The panelists largely agreed that the two critical requirements for a safe and fair election were paper ballots and a sound and credible auditing process for any certified results. 
For the last in the series of BIG10 collaborations, Mussington joined academic leaders to discuss challenges to ensure full participation in the election for Empowering Voters: An Accessible and Full Ballot Box. The panel focused on voter suppression and disenfranchisement and the threats to turnout posed by the pandemic. 
Founder and CEO of Black Girls Vote, Nykidra "Nyki" Robinson, joined SPP to speak on the importance of mobilizing electoral participation in minority and historically underrepresented groups for Mobilizing those who Matter: A Conversation with Nykidra Robinson. In the event, a Fall 2020 Norman and Florence Brody Family Public Policy Foundation Forum, Robinson discussed how systemic oppression still impacts our elections as an important reminder that even though immense improvements have been made towards equality, we still have a long way to go.
After election day, SPP held What is Happening and Why? A Post-Election Conversation, which featured experts from SPP, the Brookings Institute, GQR and the Department of Government and Politics. The event broke down the current state of the election by looking at trends, voter demographics and policy implications.
The final event of SPP's election coverage focused on the 2020 presidential election's impact on major foreign policy issues. Scott Laskensky, who served as policy advisor for the Obama administration, moderated U.S. Foreign Policy in 2021 and Beyond: A Post-Election Assessment with a panel of expert UMD professors. Topics included the U.N. and climate change, nuclear nonproliferation and arms control, America in the Middle East, and U.S. relations with China.
To see how Policy Terps showed up to vote, visit the umdpublicpolicy Instagram.