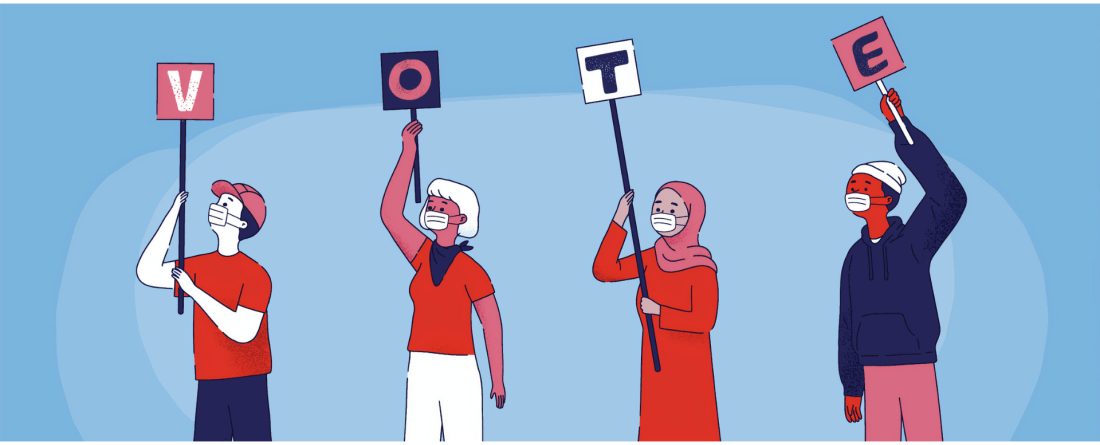 Via Maryland Today / By Sara Gaven and Raphael Rosalin
Eighty-four percent of Terps are certain they will vote in the upcoming election and the same percentage said they have already made a plan for casting their ballots, according to the results of a new student poll released today. 
The online poll, led by the College of Behavioral and Social Sciences and School of Public Policy, in partnership with the Philip Merrill College of Journalism, surveyed more than 4,300 University of Maryland graduate and undergraduate students age 18 and older from Oct. 2-12. 
"Historically, turnout among college students lags behind that of other citizen groups, but it has been on the rise in recent elections," said Mike Hanmer, professor of government and politics and research director for the Center for Democracy and Civic Engagement, who co-directed the poll. "If students' enthusiasm translates into higher turnout, it could be a game-changer not only in terms of who gets elected, but which issues get their attention. These findings give me a great deal of confidence that UMD students—and hopefully, students across the country—are going to follow through and vote in record numbers."
Consistent with findings from a national UMD-Washington Post Poll in August, a large majority (77%) of UMD students plan to vote in advance of Election Day, and 68% will not visit a physical polling location to do so. Nearly three-quarters of student respondents said they've been contacted by someone encouraging them to vote, and 43% said they have contacted others to motivate participation in the civic process. 
"I'm thrilled to see that so many students are engaged in the election and have spoken to their peers about the importance of voting," said senior Alexandra Marquez, director of civic engagement for the UMD Student Government Association and the TerpsVote Coalition student co-chair. "Decisions are made by those who show up, and if we all perform our civic duty this fall, we can have a huge impact on ourselves, our community and our future."
Additionally, findings show 76% of UMD students are concerned they or someone in their immediate family will contract COVID-19. With the football season set to kick off on Saturday, Terps indicated a strong preference for mandatory health precautions such as limiting attendance, mask requirements and providing adequate hand sanitizer at games. (The Big Ten Conference is prohibiting fans from attending games.) Meanwhile, 64% said they are unwilling to attend a UMD athletic event before receiving a vaccine. 
"It's clear this election cycle is extremely important to students and that many are trying to reconcile their sense of civic responsibility with ongoing concerns about COVID-19," said Paul Brown, director of the Civic Maryland Initiative in the School of Public Policy. "The circumstances surrounding Election 2020 are unprecedented, but Terps seem determined to have their voices heard one way or another."
Nathan Dietz, an associate research scholar in the School of Public Policy, co-directed the poll. Results have a margin of sampling error of plus or minus 1.5 percentage points. Researchers will continue to analyze the full results of the survey for a broader understanding of students' political motivations during the pandemic. More detailed findings are available here.