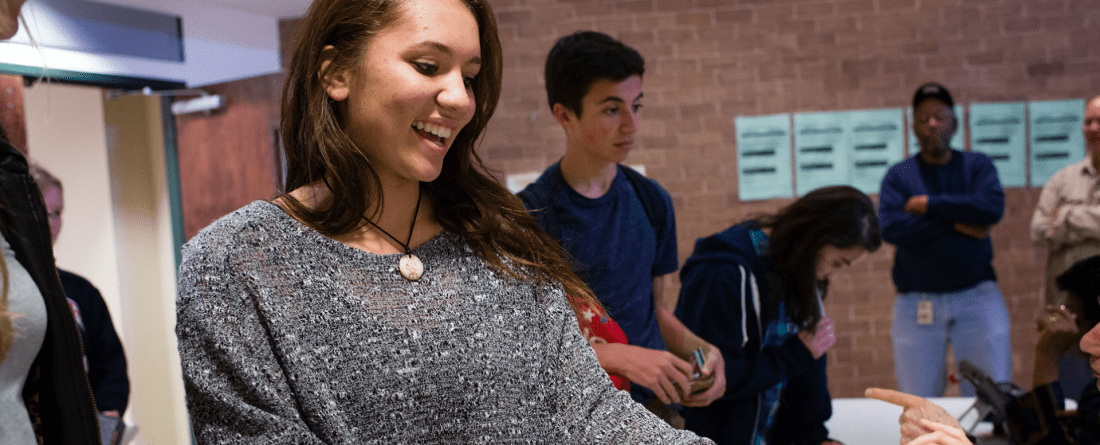 Via Maryland Today / By Daryllee Hale and Megan Campbell
The University of Maryland is convening a nationwide group of researchers, community leaders, young voters and nonprofit advocacy organizations to explore the potential impacts of lowering the voting age to 16 in Maryland and across the United States. 
The Vote 16 Research Network announced today that it will launch the nation's first-of-its-kind survey analyzing the impacts on communities in Maryland that already allow younger residents to cast ballots; it will be spearheaded by the university's Civic Innovation Center at the School of Public Policy, the Center for Democracy and Civic Engagement (CDCE) at the College of Behavioral and Social Sciences and the College of Education.
"Understanding the challenges and opportunities with youth civic participation is one of the founding missions for CivIC Maryland," said Paul Brown, director of the Civic Innovation Center. "We're excited that we can now do this work not only in our surrounding communities in Maryland, but learn from a national network of scholars at the same time."
Research has shown that the first voting experience, or lack of experience, helps determine how people participate in future elections. Brown said it's assumed that young voters who first participate while living at home are more likely to vote as adults living on their own, either in college or in the workplace.
In Maryland, several communities have in the past several years begun allowing 16- and 17-year-olds to vote in local elections: Takoma Park, Hyattsville, Greenbelt, Riverdale Park and Mt. Rainier. (The minimum age to vote in state and federal contests is 18.) 
"Local leaders in Maryland communities are the top innovators in the nation on this issue," said Sam Novey, a Baltimore-based civic entrepreneur who is the convener of the new network and is working to expand community research partnerships across the university. "UMD is so excited to learn from their creativity and establish a platform for others from around the nation to benefit as well."
This effort will involve young people who would be directly impacted by the policy, local government officials who would implement it, educators who teach students about politics and scholars. 
The study will seek to determine how the expansion of voting to teens in Maryland communities has affected turnout, election outcomes and other civic behaviors, and whether any changes have been driven by messages in the media, school-based mobilization, community government activity or some other factor. Similarly, if the analysis reveals that lowering the voting age didn't improve participation, then the network may be able to examine or recommend practices that could. 
"I am thrilled to be part of such a dynamic and diverse network that is working to understand how local communities can welcome new voters and help them develop civic skills," said Michael Hanmer, professor of government and politics and research director of the CDCE. "UMD faculty, students and staff are already making great strides both on innovative research and community engagement."
UMD is funding the research. In addition to Maryland scholars, the Vote 16 Research Network includes partners from Rutgers University, University of Kentucky, University of Montana, Western Carolina University; the Maryland cities of Hyattsville, Mount Rainier, Riverdale Park and Takoma Park; youth partners from Greenbelt and Takoma Park, and Oakland, Calif.; Vote 16 USA and Generation Citizen. 
Elizabeth Clay Roy, CEO of Generation Citizen, said the cities in Maryland that now use a 16-year-old voting age for local elections have inspired conversations on the national level and advocacy in states across the country. 
"We can think of no better way to advance this conversation than by bringing together the key leaders from Maryland's pioneering cities—plus scholars and advocates who have shaped debate on the issue in other states—to pursue new research together," she said. 
Raphael Rosalin contributed to this article. 
Learn more about the Vote16 Research Network